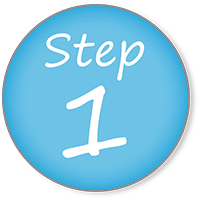 Step One: Admitting Powerlessness & Unmanageability
Step One of the twelve step program states, "We admitted that we were powerless over lust, that our lives had become unmanageable." Many of the men that schedule their first counseling appointment with me have not yet fully embraced the first step of recovery or surrender.
Often, they begin sexual addiction recovery because they were caught by their wives, fired at work for viewing porn on their computer, or arrested for solicitation by an undercover police office in a prostitution sting. They know that their behaviors are "unacceptable" to the outside world but they continue to rationalize, justify, or minimize their problem of sexual compulsivity. They haven't admitted to themselves the full extend of their problem.
The First Step Begins Sexual Addiction Recovery
The Step One must come before working any other steps because it shows an admittance of being powerless over the addiction. "I give up!" The man screams after trying to stop for the thousandth time but fails. Surrender in the 12-step program is about admitting that the addict cannot stop on his own. He does not have enough "power" and he must own that his life has become "unmanageable" because of the addiction.
"Something is wrong with me and I can't fix it!" He is beginning to recover from shock and spiritual blindness. He reaches the point of utter despair. The full affect of Step One usually comes gradually or in stages.
Step One: Honesty & Surrender
The first Step helps the sex addict to find inner honesty with himself that his life has been insane. Surrender is about letting go and turning to something or someone more powerful than the addiction to return the addict to sanity. The man shares his story of powerlessness and unmanageability with his sponsor and his 12-step recovery group as a way of admitting to the damage and destruction that the addiction has caused. Surrender becomes the sweet taste of freedom as he falls to his knees and ends his insane beliefs that he can control and enjoy his addiction. He is now ready to begin his recovery work in Step Two.
Begin Sexual Addiction Recovery Today
If you are reading this article and desperately desire to stop the sexual addiction behaviors but continue to fail. Please contact our counseling center today to setup an individual counseling session with a certified sexual addiction therapist. We will never judge or shame you. We full understand the struggle and can provide a recovery plan that works! Don't fall back into the denial thinking that you can stop this madness on your own. You need help and we can provide hope.